The winner for the first weekly activities on best article is olasamuel . More about the winner announcements could be found here
Charles is a 21-year-old programmer and blockchain enthusiast who is very passionate about building a unique decentralized app that will change the lives of many people and have a positive impact in his society and beyond. After few weeks of carrying out several surveys just to be sure of what kind of app would really hit the market and meet a whole lot of people at the point of their needs, he came up with an interesting idea.
This idea was to build and design a food donation dApp that will be integrated with the website of various restaurants and help them find suitable charities in their locality to donate their excess food on a daily basis. I'm sure we all know the essence of coming up with something like this. Instead of wasting those foods, while don't we save them by giving to charities since there are lots of people around us that can't even afford to buy them. This will sure go a long way to help quite a massive number of poor people.
Charles's idea is an excellent one, no doubt. But, he was facing some challenges with funding the development and design of the app. He was very bothered about this. Fortunately for him, we bump into each other and we discussed a lot. He told me about his plans and challenges and I introduced him to Telos4africa.
Telos4africa is a unique initiative envisaged and brought to existence by a group of creative and passionate individuals whose vision is to equip and empower all the youths of West Africa by leveraging on the unique features of the Telos blockchain network powered by the Telos native currency known as TLOS coin.
The goal is to inspire creativity and promote productivity in the West African blockchain economy
The Telos4africa initiative is a unique initiative managed by the T4A community members and funded by the Telos community to promote Telos blockchain network in West Africa and get incentivized and rewarded with the Tlos coin. The activities of this initiative ranges from the development of dApps, the promotion of music, creative ideas, short films and content creations which includes graphic designs, articles, social media campaigns and meetups.
How would Telos4africa Help Charles Achieve his Dream?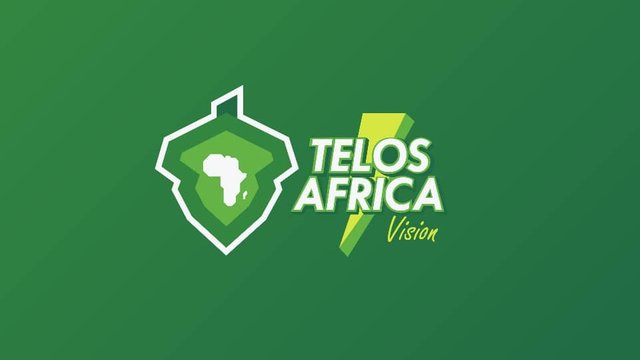 With Telos4africa, Charles will definitely be able to achieve his dream and fulfill his vision. Why? This is simply because Telos4africa would encourage him to come aboard and help in building his decentralized application on the Telos blockchain and be powered by the TLOS coin.
Since Charles's dApp have been proved to go in line with the vision of the Telos4africa initiative, which is "To add value to the community and help improve the Telos ecosystem", Telos4africa will help put in a proposal for his food donation dApp to be funded by the Telos community.
Another interesting thing about Charles's vision is that it meet the criteria for one of Telos4africa focus which is "Charity". Telos4africa believes that there is love in sharing and are driven by that belief to help in donating some aids to the needy, motherless babies homes and orphanages as well.
An highlight of what Telos4africa offers you
Telos4africa reward you for producing the best content on a weekly basis
They help to facilitate dApps development
Get incentivized for a short film idea that could help promote Telos blockchain network
Get the needed support to organize and host a blockchain meetup in your region
Telos4africa help build and promote your music talent to the world
They help fund charities and give aids to the poor
They are also ready to strike a partnership deal with any blockchain-based project in West Africa that meet their criteria
Final Thought
With the existence of Telos4africa, people like Charles do not have to worry, as Telos4africa will help in the development and actualization of their dreams. What talent have you got? What ideas have you got? You don't have to worry. Telos4africa is here to help build your talent and your ideas, and help you actualize them into achieving your dreams.
The First Telos Blockchain Meetup
Telos Blockchain will be hosting their first Meetup in Nigeria on the 14th of December, 2019. You are all invited to join us there. Use the link here to get your free ticket to the event.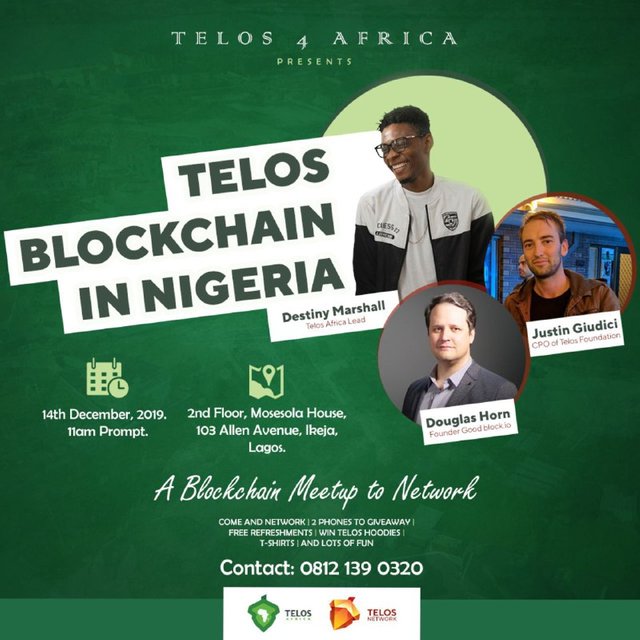 For More Information
All images used except the ones sourced were extracted from the resources of Telos4africa.
This Article could be found on different blogging platform but all rights reserved to TELOS4AFRICA